OSWALD LINKED TO CLINTON PHOTO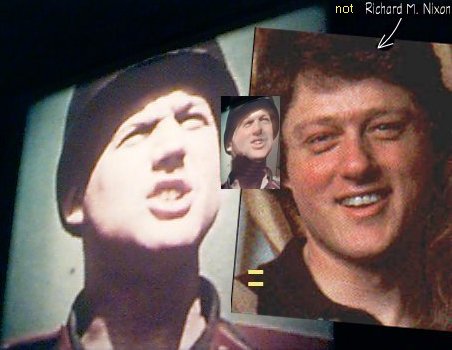 Long before I heard of Wilfried Huismann, I was going over my evidence a few months back on the unsolved case of why Bill Clinton was filmed wearing a Russian uniform, shouting, "You're outnumbered 10 to 1". Earlier on, overlooking the odds of Linux being an eventual target of this line, I mulled for a while and then concluded : - The United States Government is hopelessly trying to hush up politically embarrassing disclosures that it may have harbored a Russian spy as its former President.

MOTIVE: was the 13,000 year old Illuminati influence via the shipwrecked of Atlantis, getting the players (CIA/KGB/ORNL,etc) to fool Castro as to some other reasons. One reason maybe was to ensure that after a few trained doubles for Bill Clinton were assured, Oswald had to remove any Kennedy recognition, thus to immortalize their candidate's chances, eh?

http://www.roadtowealth.com/GPStory.htm

In the Spring of 1967 she "hit me below the belt." She came home from work one day and said, "We (meaning the Communist party) are going to have our own President in the White House. We have an American Senator in our pocket." I asked her questions, especially how were they going to get a communist elected President of the United States. She told me the shocking news in detail.

In 1954 a collective Soviet Politburo decided to find a "sleeper" in America, preferably without parents, from a totally unknown family. They would take care of his education and would groom him to become the future leader of world communism.

... by anonymous coward, (but Clinton writes, "if they hit us hard below the belt, we should take a meat ax and cut their hands off...". Then he goes on to remember being taken aback by the last thing said to him by Dr, Vaught, who he met in 1954. He said, "Bill, I think you're going to be President someday.")
MEANS: these guys know how to eat the flesh off the bones at Democracy's autopsy, but when they do, a silver bullet will still exist in the proof, at my private, albeit tracked, website. The more this is looked into the more will rip apart history to become the oldest story ever told.

OPPORTUNITY: likely discharge of quantum gun at the moment of the 1999 totality.

THE CODE: Ingrid; - Slater being the protégé of the god of statistics, Charles Spearman, the father of Factor Analysis. Except this AI is like an Orikaeshigitae riding into town on enhanced dolphins, to discuss the facts of life.

Or you can go to the end of this link to see where I fell today--a much more interesting back story. http://ingridx.dynu.net/aladdinscave.html

SPACETIME RIFT CAUSED CLINTON CHEAP HOTEL SPY SCANDAL
Drag Browser location to a privacy-free Ingrid PasteAll button. Relax and listen for an hour.
Reference only: The Illuminati Formula
Reference only: Jimekus' Origins And Current Events
Reference only: Political Ponerology, Nature's Evil Leaders
The world's most influential man is beside himself in a shiteating grin. He was discovered wearing a Russian uniform by a lone nuclinear code ranger, who unwittingly caused the history of two contradictory Everett universes to be grafted by thirty frames of celluloid. The last time anything like this happened, fifty years of Austrian/Illuminati history was lost.
I did not have relations with that software company - This has to be the wildest, most appealing Microsoft rumor to surface in ages: Former President Bill Clinton is considering signing on as the company's president.
I DIG IT
Because now, with a pardonez moi from from Bill to M$, money and barter are no longer the only two alternatives. Capitalism can give way to a Quantum Bookkeeping and New Economy. There may be no longer any monetary ways to make restitution between the compassionate conservatives, the really successful psychopaths, the Koreans, the Zapatistas, et.al., except that their stories can be linked. Everyone wins and things will start looking after themselves.
Me Kee-Mo Sah-Bee would like Tonto to rewrite history from that PROLOG outward, supported by computer science. Oddly enough, small-talk like, "Me Kee-Mo Sah-Bee, you Tonto" gets us only so far. In fact, the truth of the fault will be written by Tonto in response to choices Tonto make. A true use of hyper linking will take place before Tonto eyes. No segment will be too long or boring.

Here Tonto go clicking into the rabbit hole...index.htm... and here's where Tonto come back after Tonto learnt to refocus on all that evidence eagerly wanting to move on with the story. Hey, wasn't that hard! Was it? Now Tonto tell Kee-Mo Sah-Bee to give serial. But see Tonto later if Tonto didn't get it. Tonto won't have a good future, beyond the death of Tonto soul.

DON'T CLICK THE LINK BELOW
UNLESS YOU ARE READY TO FALL DOWN THE RABBIT HOLE.
Caveats (*Required reading)

Chapter 1. Ingrid AI Creating Fiction From Fact
Chapter 2. Author's Scream Of Consciousness
Chapter 3. The Dream Of A Dead Man
Chapter 3a. The Curse Of Ingrid
Chapter 4. About The Genre
Chapter 4a. Psychic Actualisations
Chapter 5. Time Travel
Chapter 6. The Present 75 Years Ago
Chapter 7. The Power Of An Attorney
Chapter 8. New Spacetime Magic - Old Wounds
Chapter 8a. Abducted By Alien Historians
Chapter 8b. Bill Clinton - Alien, Sex Spy or What?
Chapter 8c. Physical Evidence
Chapter 8d. No Privacy Expected No Privacy Given.
Chapter 9. NZ Shutdown Party - Ludicrous Situation
Chapter 10. Seeking Shelter From My Storm

Reference only: storm damage at Cheap Hotel - Prequel
Reference only: TRAVELS OF JIM
Reference only: StarTrek 3 type of new economic system