j.Maxwell Legg
Global-SPS...................Global/Ingrid..............1980
Delta Communications...Global/WaveLink.......1990
Ekus UN-incorporated..............(W)inGrid.......2000

International Protected Person..
IPPact1976
.......2010
Shutdown Party .. ..Sept 7th, 2996
Career Objective - Consensus Services Officer
Career Objective - RSVP Reality Service Virtuality Provider


Objective 2000. .
After two years of careful preparation, last year I completely redeveloped the WinGrid open source freeware project in VB5.0. I am now looking to position it in the crowded middleware tools of online analytic processing. WinGrid 1.01, due out shortly to fix memory, is now handling 153x153 grids albeit up against my system's programming limits. To this end I am delaying WinGrid 2.0 development until the release of Visual Basic Next Generation which includes new object oriented programming features, such as, Inheritance, Encapsulation, Overloading, Polymorphism, Parameterized Constructors, and the other additional modernized language features of Free Threading, Structured Exception Handling, Type Safety, Shared Members and Initializers. As Visual Studio 7.0 has not been released yet, to coincide with its release I want to develop for a 3rd party; - getting me to integrate WinGrid into their dream project. In the meantime I'm going to show you how I propose to apply a reference grid using my career summary, previously published here in HTML as follows.

Currently I am a surviving technologist and decision analyst (CKO). That's right, yours truly is the one and only who set up Ekus UN-incorporated as an international organization of intergovernmental character. As members are MindUploading prototypes, membership guarantees no adverse affiliations and endeavors to outlive me according to plan.

Ekus is thus an egalitarian society which, for my purposes, an appropriate definition allows NOT for the development of leadership through achievement, personal abilities, and even hereditary status, BUT FOR LONGEVITY, so long as that status does not convey the right to restrict the access of others to critical resources.

This court reviewable résumé here, gazettes for Governors General the specified circumstances in which their Foreign Affairs Ministers may certify facts relevant to the question of whether a virtual director of Ekus is, or was at any time or in respect of any period an internationally protected person.
---
So, if you want to share INGRID opportunities in Computational Cognitive Neuroscience with a mind uploader who is not of the Corporado's persuasion come to my homepage. Or fly to:- http://wiretap.spies.com/Gopher/Library/Fringe/Conspiry/opal.txt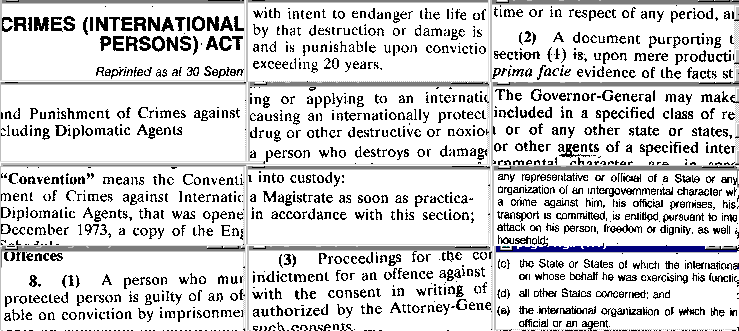 (that was the river - then I went esurfing and learnt at least 1000% more than what's here)

---
Link to my Career Summary